Rights Respecting Silver Award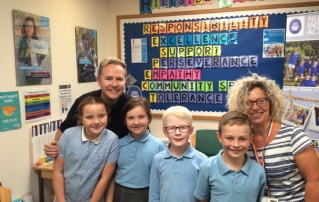 We did it!
On Thursday 19th September we had a visit from Jilly Hillier, a professional advisor who works for UNICEF.
She came into our school to see if we had earned our Rights respecting silver award and I can proudly say we did it!
Massive thank you to all those who helped on the morning and all our amazing children who talked lots about what rights we have at school and how we can be global citizens.
We have worked hard over the last year and it's great to get the recognition the school deserves. We can now focus on our journey to the gold award and over the next year we will be thinking about how we can make our school more sustainable.
Some of our school council showed Jilly around the school, showing her our displays and talking about some of the work we have done in the classroom....she was very impressed.
Special shout out to Pippa Banks, Jilly was so impressed with her reducing plastic project, that she has taken it away to use at her training sessions!
Be sure to check the newsletter each month for more updates!